Ethiopia Adventure Tour Packages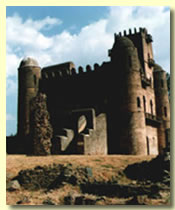 Sample Itinerary
Day One fly in to Gondar, check into hotel and visit local castles.
Day Two early drive to the Simien Mountains and begin trek
Day Three thru Six continue trekking, hotel night six back in Gondar
Day Seven fly from Gondar to Bahir Dar, with city tour in the afternoon
Day Eight thru Ten rafting down the Blue Nile, return to Bahir Dar day ten
Day Eleven visit the ancient monestaries of Lake Tana
Day Twelve return to Addis for flights home
Adventure Ethiopia Packages
These unique multi-activity programs includes highlights of the popular northern Historic Route, trekking in the Simien Mountains, and rafting on the Blue Nile River. In our search to discover the wonders of Ethioipa, we travel by plane, 4x4, foot and raft. From the moment you step off the plane we will take care of everything. You'll have the opportunity to see the Castles of Gondar, the rock hewn churches of Lalibella, the ancient monestaries of Lake Tana, and the stunning scenery of the Semien mountains. Add this to a spectacular trip down the Blue Nile River and you will have a two week vacation filled with a lifetime of memories. This amazing trip is so easy for you to get involved in, we sort out everything for you from airline tickets to the itinerary. It's not often you get to go on such a great trip that has been completely organised for you, all you have to do is enjoy yourself.
Trip Overview
Length: 12 days, custom itinerary available
Available: November through February
Difficulty: Moderate, some strenous hiking
Cost: $2,775 usd/person
Trips also available on many of Ethiopia's other amazing rivers, such as the Omo, Tekeze, and Awash - please inquire for more information